Arcadia: An East Coast Gathering for Queer Pagan Men and our Friends
---
 Discovering Arcadia: Empowering Queer Men's Spirituality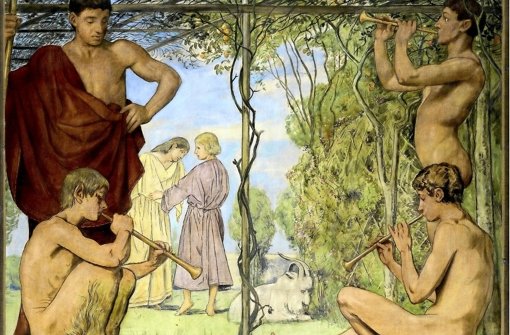 "Those who dwell in Arcadia seek out that secret Eden because of its isolation from the troubled world and its safety from the arrogant demands of those who would deny freedom, curtail human action, and destroy innocence and love." - Byrne R.S. Fone
October 9-12, 2019

Theme: Discovering Arcadia: Empowering Queer Men's Spirituality
Patron Deity:  This year we will honor the Greek god Pan.  Pan was one of the primary patrons of ancient Arcadia. He is the god of the wild, shepherds and flocks, nature, rustic music, and sexuality.  Pan is known for chasing both nymphs and shepherds alike.
What:  A Queer-positive Pagan men's gathering open to men of all orientations, spiritual paths, and backgrounds.
When: October 9-12,2019. 
Where: Bear Creek Lake State Park in Cumberland, Virginia (less than an hour west of Richmond, VA). 
Why: Because there's a need for such a gathering on the East Coast.  The nearest Queer Pagan men's camping gathering is in Ohio. 
Who: Anyone over 18 who identifies as Pagan or Earth-based spirituality who is also gay, bi, queer, or trans. We will not turn away any respectful seeker regardless of gender, sexual orientation, or spiritual path.
---
Dates and location have been confirmed!!! Registrations are now being accepted!!!

As a first time event, we expect this will largely be a bare bones event.  We are providing the venue and basic structure. 

We hope that guests will help fill in the workshops and activities.
We are also looking for a couple of folks to help with planning this event and to help make sure it runs smoothly at the gathering itself.
Please consider joining our Facebook group to keep up-to-date and be sure to RSVP to our Facebook event page if you plan to attend.

---
Please help us spread the word by downloading our flyer
and sharing it to your local Gay and Pagan groups and venues.
Please feel free to print and share!!!
---
Logo contest:
Are you artistic?  We are looking for your help to come up with a logo for our first gathering!  This logo will be used on our webpage, in our program, and on t-shirts (if we decide to sell them).  A prize of some kind (likely either a t-shirt or a discounted registration) will be offered to the creator of the winning logo.
Here's what we'd like to see in a logo:
The Greek god Pan (either a whimsical satyr or a sexy beast)
He will be playing the Pan pipes.  The pipes themselves or a horizontal band across them will be in the colors of the rainbow representing the gay and bi aspect of the gathering.
He will have a male symbol necklace (think Austin Powers) to represent the male aspect of the gathering.
The circle of the male symbol necklace will contain a pentagram representing the Pagan aspect of the gathering.
There will be a disco ball in the image - possibly hanging from a tree limb (see Pan at the Disco under workshops and activities).
Logo submissions and offers to volunteer should be sent to Mel's e-mail.