I have long held a dream to start a campground for LGBTQ folks, Pagans, and other alternative communities in Virginia. Such a place would provide safe space for alternative communities to camp, to hold camping retreats and themed camping weekends, and to gather for special events. Unlike the many family friendly campgrounds out there, this campground would be geared for adults.
It is my hope that this dream might become a reality within the next decade. It will likely happen when I retire from my current job in late 2030 – though I hope I might be able to start the campground on a smaller scale before that time. This would be an ideal way to spend my retirement and also might serve as supplemental income for myself while also creating space for a larger community to develop.

This campground will be located somewhere in Southwestern Virginia – likely nearby to Roanoke and Floyd County, Virginia. While I have grand designs, it would likely start out small and then grow as demand and finances permit.

Below are some of the services and features the Olympus Campground might offer.

Olympus Campground will serve audiences who often have difficulty finding safe space for camping and for hosting events.
Primary Communities Served
Olympus Campground would provide a safe camping, retreat, and event space for the following communities.
Lesbians
Gay and Bi Men
Bisexuals
Transgender folks
Plus everyone else
Wiccans
Witches
Druids
Norse Pagans
Fairies
Other Pagans
Bears
Leather folks
BDSM community
Polyamorous folks
Furries
Nudists and Naturists
Camping and Special Events
The campground will make money by offering camping reservations and by hosting special events throughout the year – especially during the summer months.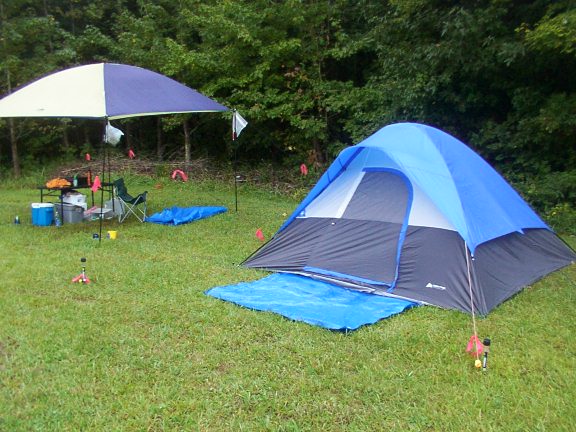 Olympus Campground will initially offer seasonal camping reservations.  These may include tent camping spaces, sleeper cabins, "glamping" cabins, and possibly a few RV/camper spaces
Olympus Campground will host a handful of internal retreats throughout the year and will also be available to outside groups within our communities who wish to host their own retreats and gatherings at Olympus.
Throughout the summer months, Olympus Campground will host themed camp out weekends.  Extended camp out weekends will take place during summer holiday weekends. These will go beyond the typical "gay bar in the woods" themes held by many gay men's campgrounds.  These might include fetish weekends, singles weekends, couples weekends, pirate weekends, sci fi and superhero themed weekends, and so on.
Olympus Campground will host regular non-camping events.  This might include LGBTQ and Pagan Pride days, music concerts, chili cook offs, picnics, and so on.
Olympus will start out small and then grow as demand and funding allows.
The ideal starting acreage is approximately 10 acres in Southwestern Virginia near Floyd and Roanoke.   My hope is to find something sparsely wooded with a natural stream or creek running through.   The campground could eventually be expanded or relocated should demand and budget allow.
A medium shed would be converted to serve as the registration desk and a camp store.  The store would feature firewood, ice, camping items, and convenience items like snacks and drinks.  There will be Wi-Fi and charging stations available.
A bathhouse with private, gender-neutral restrooms, sinks, and showers will be created on site.  This would include hot and cold running water.
A covered dining pavilion will provide a place for folks to eat during retreats, camp outs, and other events.  Initially, and outside caterer might be contracted to provide meals for some events.
An area of land will be cleared to create a Drum and Dance circle complete with fire pit. 
An outdoor stage area will be constructed to host concerts and other entertainment. 
A gravel parking lot will be available near at the entrance to the campground.
Olympus Campground will start out small and scalable.  As the campground grows additional buildings, features, and services might be offered.  The following are part of my larger dream for Olympus.