This is a sample page of desired buildings and grounds.  It may not reflect actual buildings and grounds at the time the campground resort opens.  Photos are sample photos of what things could look like. The restaurant may have a different name and menu offerings depending on the restaurant vendor. Some building or location names may change to either reflect the Greco-Roman theme or to honor a donor who funded the building or land feature. "Wish list" items are items that would great to have, but are likely too expensive to be feasible, at least during the early years of the campground.

Lycan Lodge (wish list building)
Lycan Lodge includes our main office and registration desk; Centaur's Camp Store; Apollo's Restaurant and Bar; a lobby area with a 60 " large screen television; and two rooms that can be reserved for special workshops and events. Outside the Lodge is a patio area with stage where we host musical guests and other entertainment.
Centaur's Camp Store stocks bottled drinks and prepackaged snacks, hygiene products, first aid items, bug spray and sunscreen, batteries, charcoal, firewood, and common camping accessories. We also stock t-shirts and other promotional / gift items related to the Olympus Campground and Resort.
Apollo's Restaurant and Bar sells breakfast, lunch, and dinner.  Menu items include burgers, garden burgers, sandwiches, soups and salads. On evenings and weekends, the restaurant hosts LGBT bar-type events.
The Gymnasia Recreation Hall (wish list building)
The Recreation Hall includes indoor games such as pool, air hockey, and video games. There is also a Neptune's Snack Bar, a fitness room, and a sauna. Basic laundry facilities for campers and showers are also featured.
Neptune's Snack Bar features shakes, pizza, hot dogs and veggie dogs, nachos, and other snacks.  Healthy options include juices, smoothies, fresh vegetables, and hummus.  Neptune's also provides meal plans for conferences and gatherings.
Neptune's Nook Pool (wish list feature)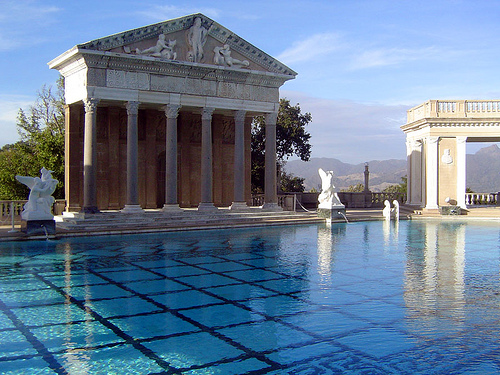 Adjacent to the recreation hall is a heated in-ground pool, as well as an outdoor recreational field.
The Gate House (essential building)
The gate house is where campers and groups check in. In lieu of having a main lodge, the gate house is the location of the main office and camp store. Basic first aid is also available here.
The Bath House (essential building)
 No need to rough it too much. We offer a bath house with hot and cold running water and modern bathroom facilities.
Dining Pavilion (essential building)
Our screened in dining shelter seats 50 people. During off hours, tables and chairs can be moved around to provide space for activities and workshops.
Amphitheater (essential space)
The amphitheater features a stage and is perfect for musical and other performances.
Druid's Fire Circle (essential space)
Our fire circle is ideal for drumming and dancing around the fire.  A circle of stones marks the outer perimeter of the fire circle area.
Our Labyrinth (not essential, but easy enough)
We have a hedge labyrinth for meditative walks.  Just watch out for the Minotaur... just kidding... or are we?
Campsites (essential spaces)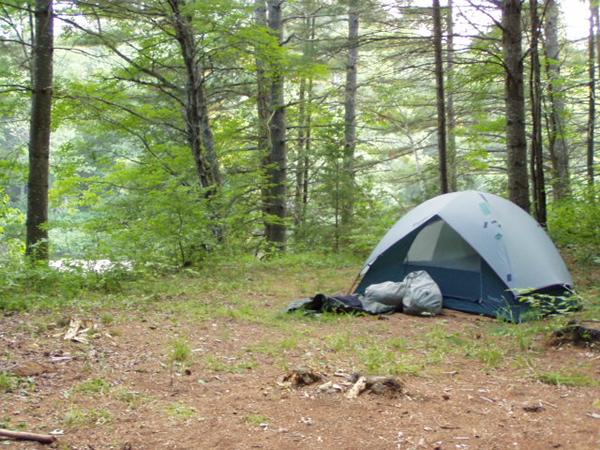 We currently have 25 cleared campsites with more in the works. There are a handful water faucets and picnic tables in the campsite area.  You can rent a fire ring from the camp store or bring your own grill or fire bowl.  There is also an area where you can clear your own primitive campsite.
Cabins (early expansion buildings)
We offer two types of cabins: Sleeper cabins and Deluxe cabins
We currently have six Sleeper cabins.  Sleeper cabins are smaller with a full size bed, night stand, table lamp, and a couple of chairs.
We currently have two Deluxe cabins.  Deluxe cabins are larger.  They feature a full size bed, night stand, table lamp, table with chairs, a mini-fridge, and air conditioning (space heaters are available during the colder months). 
All cabins have basic electricity.
The Bunk House (wish list)
The bunk house is barracks style housing.  We currently have one bunk house with seven twin size bunk beds.  The cabin sleeps up to 14 campers.  The bunk house is generally reserved for overnight accommodation during conferences and gatherings.  If there are no conference or gatherings scheduled, beds are available to general campers on a first-come first-served basis.
RV Sites (essential or early expansion)
We currently have 10 primitive RV sites.  All sites have water hookups.  We will be adding electric hookups in the future.  A dump station is also in the works.