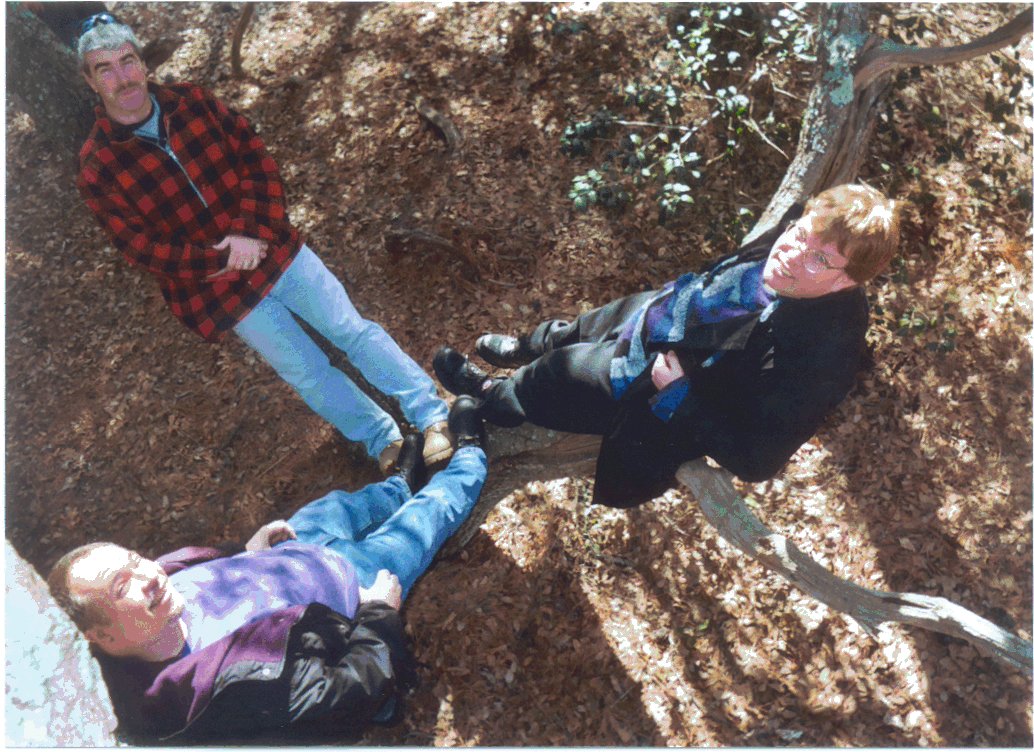 Olympus Campground Resort is gay and Pagan owned and operated and will cater to LGBTQ, Pagan, and related communities who often feel marginalized and out of place at other campgrounds and resorts. The primary markets will be LGBTQ, Pagan, and other adult alternative communities, though a special focus will be on Queer and Pagan men, and men involved in the mythopoetic men's movement.  Secondary markets may include fetish communities, polyamorous folks, sci-fi / fantasy groups, and so on.
Our resort will be adult-oriented, rather than the typical "family-friendly" venue, providing a place for adult singles, couples, and others without children to relax and play.  As a private members-only campground resort we can provide a safe space for our members and an adult, clothing-optional atmosphere.
Olympus Campground Resort will be located in central Virginia within 2-3 hours of most major cities and metropolitan areas in Virginia providing a convenient weekend getaway for city folks.  We will also provide a place for rural LGBTQ folks, Pagans, and others outside the mainstream to congregate and find community.  Being located in a rural area without existing LGBTQ bars, Pagan shops, or other community resources will provide an opportunity to build these communities in the area surrounding the campground resort.
The initial campground will feature a gate house, bath house, dining pavilion, and campsites.  We might also feature cabins and RV sites. Our wish list of later additions includes a main lodge, restaurant (that may double as a bar on the weekends), and recreation hall.  Other amenities might include a pool, sauna, hot tub, and recreational field.  A fire circle, amphitheater, and stage areas will also feature into the landscape.  A Pagan / Hellenistic open air temple will provide a place for Pagan drum circles and solar/lunar celebrations.
We will offer a variety of events that cater to our main audiences and that provide options beyond the typical "bar in the woods" event themes of most gay and bi men's campgrounds.  We will also host Pagan and general interest events.  Additionally, we will cultivate outside groups and gatherings who might wish to host their events at the campground.
Olympus Campground resort will take the LGBTQ and Pagan campground and resort concepts and merge them into something unique and with broader appeal. 
Brotherhood by the Bog: A Spiritual Experience for Pagan and Pagan-friendly Men
---
Strange Magick: Off the Beaten Path

April 22-24, 2022

We're still virtual this year!
This year's event is free!!!
Our theme:
Our theme this year is "Strange Magick: Off the Beaten Path."  It is our goal to highlight Pagan paths and practices beyond the more familiar Wicca, Witchcraft, Druidry, and Norse Paganism. 
Brotherhood by the Bog
Brotherhood by the Bog is an annual men's spiritual and bonding experience. Our event usually takes place in the spring at First Landing State Park in Virginia Beach, but this year we've decided to go VIRTUAL for a second year in a row. The focus is primarily Pagan though all respectful seekers are welcome. We welcome men of all sexual orientations and backgrounds.
This year the retreat is being co-sponsored by Brotherhood by the Bog and the Tidewater Spirit Coalition men's group.
Be sure to join our general Facebook group for to receive general announcements about Brotherhood by the Bog and future events.

If you plan to attend any or all of the Virtual Brotherhood by the Bog 2022, please join this Facebook group.  The "Virtual Brotherhood by the Bog Attendees" Facebook group is where we will post Zoom links to workshops and activities, share links to video, and communicate during the virtual retreat.

Want to host a workshop?
Do you dabble in Discordianism? Are you crazy about Chaos Magick?  Are you vocal about Voudoun?  Are you happy about Hermetics?  Can you speak on Shamanism?  Do you practice African, South American, Asian, Mexican, Indian, or other Pagan / Magickal traditions?  Do you practice a unique LGBTQ form of magick?  Do you shapeshift or summon strange beasts?  If so, you might have something to contribute to this year's theme!
We have a number of workshop slots open at this time. Your workshop should be related to the concept of "Strange Magick: Off the Beaten Path", Paganism, Pagan paths and practices, Pagan men, or the men's movement. Rituals, crafts, and other activities are also welcome. We value diversity and would especially like to invite gay and bi Pagan men, Trans men, and Men of Color to present. We will be filling a dozen or more workshop and activity slots. We do not have a specific deadline for workshop proposals though the earlier you get your proposal in, the better chance your workshop will be approved. A full schedule of will be posted to our 2022 Retreat Facebook page as we get closer to the event.
Send your workshop proposals This email address is being protected from spambots. You need JavaScript enabled to view it.. Be sure to put "BBTB Workshop Proposal" in the e-mail subject line.