Lost Boys and Neverlands:
Creating Magickal Connections in a Mundane World
March 23-25, 2018
First Landing State Park
2500 Shore Drive
Virginia Beach, VA
Cabin # 11

Brotherhood by the Bog
Brotherhood by the Bog is an annual men's spiritual and bonding experience that takes place in the spring at First Landing State Park in Virginia Beach. The focus is primarily Pagan though all respectful seekers are welcome. We welcome men of all sexual orientations and backgrounds.
This year's theme includes:
Finding and connecting with your tribe.
Rediscovering the magick within.
Achieving the balance between your inner adult and your inner child.
Keynote Presenter(s):
Eric Eldritch
Eldritch is a Radical Faerie, Urban Shaman, and Stone Circle Wicca Priest, who lives at the intersection of Sexuality and Spirituality. Eldritch is a community organizer with leadership experience in organizational development based on principles of group identity, sociolinguistics, and cross-cultural relations. Drawing on twenty years of experience in ceremonial and ecstatic forms of worship for ritual construction, he specializes in interfaith worship and spiritual retreat planning. Eldritch consults with Pagan and community groups to create events that organize, energize, and inspire.


The Hero's Adventure
March 10-12, 2017
First Landing State Park
2500 Shore Drive
Virginia Beach, VA
Cabin #20
Guest Presenter:
Tom Crockett is an ordained minister and spiritual counselor. He is a teacher, lecturer, and student in the Pachakuti Mesa Shamanic tradition, as well as in Buddhism, Advaita Vedanta, and Depth Psychology. He has worked as a spiritual counselor for over twenty years.
Tom has worked with indigenous healers in Mexico and North America and studied core shamanism through the Foundation for Shamanic Studies. He is a Reiki practitioner and has studied bioenergetic healing with Mietek Wirkus. In 2001, he completed an apprenticeship in Paqo Wachu (Peruvian Shamanism) under the guidance of shaman and ceremonialist, Don Oscar Miro-Quesada. Tom has led and cofacilitated retreats in Oaxaca and Mexico City, Mexico, under the auspices of the Institute for Depth Psychology.
Tom has made an intensive study of dreamwork, especially as a tool for spiritual growth. He has been a featured presenter at the Association for the Study of Dreams International Conferences since 1998 and was an invited presenter to the Conference on Indigenous Healing Traditions of the Americas cosponsored by the National Institutes of Health in Washington, D.C. in 2002. Tom has presented at the Science and Nonduality Conference (SAND) with co-panelists Scott Kiloby and Jeff Foster, and been a regular presenter at the Paradoxica Conference on Nonduality.
Tom currently serves as Executive Director of Together We Can Foundation, a non-profit organization serving at-risk teens in Southeastern Virginia.
He has undergraduate and graduate degrees in fine arts from Old Dominion University (summa cum laude) in Norfolk, Virginia, and The School of the Art Institute of Chicago, Chicago, Illinois, respectively.
He lives in Newport News, Virginia with his wife, Kelly and is stepfather to three amazing children: Holly, Kasey, and Dylan.
 Midsummer Men's Retreat
A weekend about the Fey, Nature Spirits, and Liminal Spaces
June 3-5, 2016
First Landing State Park
2500 Shore Drive
Virginia Beach, VA
Campsite #88
---
Guest Presenters:
Sir Hex Nottingham. Raised as a Shield Knight and Priest of the Loyal Arthurian Warband by Arthur Pendragon in Stonehenge, student of the Order of Bards, Ovates, and Druids, member of the Ancient Order of Druids in America, and appointed as Principle Drummer of the Stonehenge Druids. A lifelong Witch, studying the many ways of the Craft since childhood, Hex has made 5 pilgrimages to the United Kingdom visiting some of the most sacred Druid and Celtic temples, and worked with many amazing people along the way, even sharing the stage with international Pagan recording artist Damh the Bard to an audience of 400 Druids in Glastonbury and two private shows of 100 in Pennsylvania. In 2015, Hex conducted the Midsummer Sunset Ceremony inside Stonehenge to a crowd of about 30,000 people.
---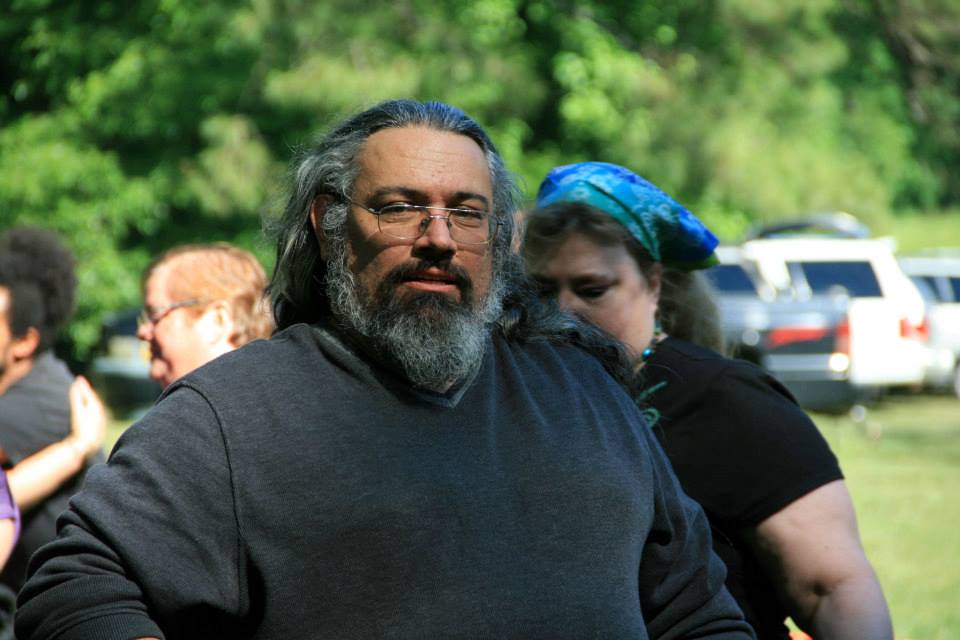 Norsewyk Grimnir.  Norsewyk is a leader and teacher in the Hampton Roads Pagan community. He is active in the Eastern Beach Kindred and teaches regular classes on Northern Magic and Northern Lore at Mystic Moon.  He also regularly facilitates workshops and rituals at Mystic Moon and at events such as May Moon and Autumn Moon.